Dr. Bill Howatt's book is required reading for anyone who is truly looking for the tools that will help them build a balanced life. Stop Hiding and Start Living will give the reader the skills needed to achieve this balance.

Greg Hemmings

Award-winning filmmaker and entrepreneur
Dr. Bill Howatt seamlessly intertwines poignant and evocative personal narrative with a straightforward and pragmatic toolkit. He brings the theoretical to the personal, and takes you on a journey that will inspire honest self-reflection and effect positive change in your life.

Sapna Mahajan

Director, Treasury Board of Canada Secretariat, Government of Canada
Dr. Bill Howatt's passion and commitment to his work is contagious and, with this book, he's providing an extremely practical and actionable approach to getting started on a life-changing journey!

Lynn Brownell

President and CEO, Workplace Safety and Prevention Services
Invite Dr Bill to speak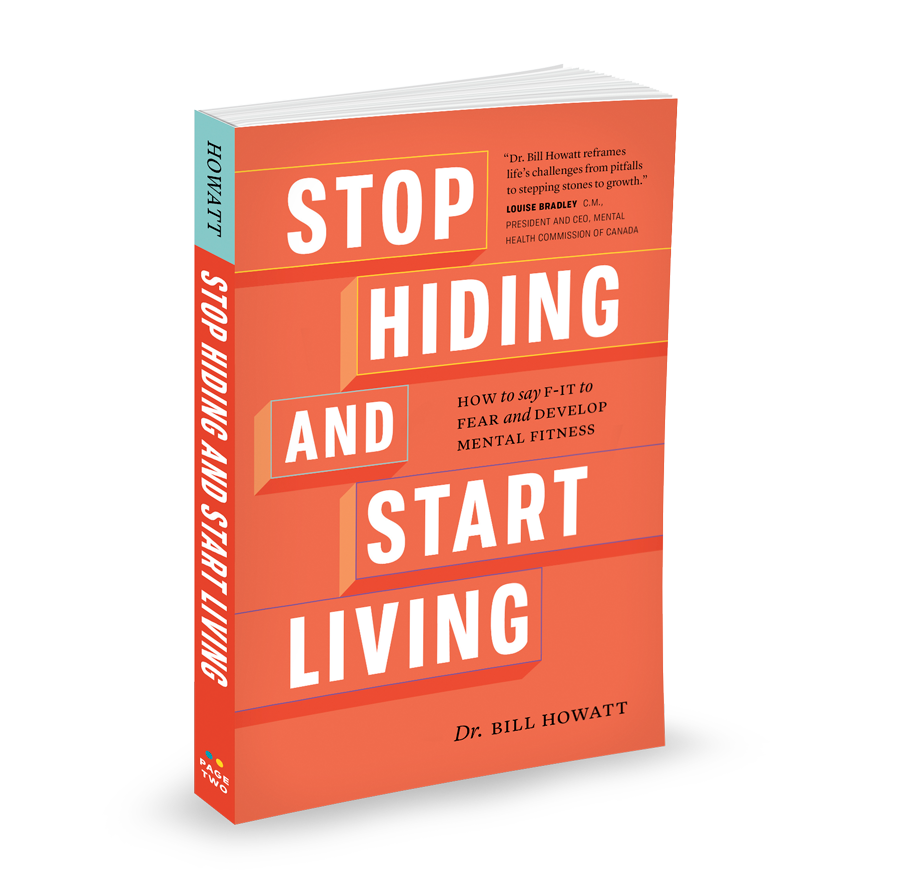 Buy 'Stop Hiding And Start Living'
Order your copy now!
Order your copy of Stop Hiding and Start Living from any of these online book sellers.
About the book
Life can be wonderful, and life can be wicked.
There can be times in your life when you're happy: you're in love, your children are healthy, and you're professionally fulfilled. And there can be other times when you're worrying about whether you'll be able to get through: your finances have become a burden, your blood pressure is sky high, and your spouse has just left you.
We all experience stresses and failures. The key is developing coping skills that can transform even the worst situation into an opportunity to build resilience – your capacity to deal with and push through different degrees of adversity. In this book, mental health expert Dr. Bill Howatt presents a five-part model to move you past the rut in your life and toward happiness. He first shows you how to build awareness of each area in your life – career, finances, relationships, physical health, and mental health. Then, he shows you how to take accountability and make healthy changes that will improve your life. Finally, he gives you the tools to build your resilience and take action to achieve your goals.
Happiness and well-being are not destinations; they're an outcome of choices you make, and ways of being and living daily. Bill Howatt's model will help you make those choices in a smart way so you can stop hiding and start living.
Order your copy today!
Inquire about bulk orders & possible volume discounts
Dr. Bill Howatt has spent decades guiding people toward enhanced happiness and well-being. He knows what works. What's more, he's articulate and accessible. Looking for new ways to care for your team? Trying to help someone find their footing? Searching for insights that will reveal new paths on your individual journey? Stop Hiding and Start Living will be a beacon of clarity and inspiration that lights your way.

Greg Wells, PhD

CEO of Wells Performance Inc. and author of The Ripple Effect
Without learning how to fail, we'll never truly flourish. This is the crux of Dr. Bill Howatt's new book, Stop Hiding and Start Living. Part mental health primer, part workbook, Stop Hiding and Start Living lays out the building blocks Dr. Howatt deems foundational to mental wellness, while reframing life's challenges from pitfalls to stepping stones to growth.

Louise Bradley, C.M.

President and CEO, Mental Health Commission of Canada
Dr. Bill Howatt humbly shares his authentic life story—inspiring readers to take 'tried and true actions' toward achieving fulfilled and happy lives. Stop Hiding and Start Living is an honest and direct book of instruction on how to thrive in life.

Allan J Stordy

President and CEO, Arete HR Inc.
BILL HOWATT GUEST SPEAKER ON THE BOILING POINT PODCAST
Stop Hiding and Start Living: How to Say F-it to Fear and Develop Mental Fitness
Sign up to receive news & updates from Howatt Strategic HR